Why Remove Attic Insulation Before Upgrading?
Published on December 16, 2021
Attic insulation in Mississauga is an integral part of any home's energy efficiency. The fact is, when your home isn't insulated properly, you can be spending a lot more on your gas and electric bills to keep it warm in the winter. In addition to losing heat through the roof in the summer, you're unable to maintain a cool home during the summer. This might only mean that you need some new insulation if it's been a few years since your last installation.
Signs that your attic insulation in Mississauga needs attention include:
poor air quality
excessive dirt build-up on the roof
water leaks or stains on the ceiling
an upswing in your energy bills.
If you notice any of these signs, it's a good idea to consider an attic insulation removal or an attic insulation upgrade.
When Should You Top Up Attic Insulation in Mississauga?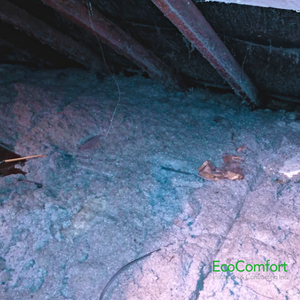 Many homeowners in Mississauga find themselves in a situation where they have an attic that is entirely insulated, but they still feel discomfort from their heating system. Whether the problem is due to energy efficiency or ventilation, there are certain situations where installing new insulation makes sense rather than attempting to fix the problem with the insulation already installed. At EcoComfort, we offer comprehensive attic inspections in Mississauga to determine whether your insulation needs a fix or complete attic insulation removal.
Essentially, you may need to leave existing attic insulation and install new attic insulation in Mississauga when your old insulation is:
Depleted of its insulative properties
Dirty and no longer able to adequately protect the building's interior from heat or cold
Compromised by rodents, dust mites, and moisture
Damaged by previous roof repairs or construction on the house
The problem of too much attic insulation
Insulation plays a vital role in both energy efficiency and the comfort of a home. Too little insulation will result in drafts, while too much insulation can cause air sealing issues and improper ventilation. It is essential to get the right amount of insulation for your home. Typically, to prevent heat transfer in your home in Mississauga, experts at EcoComfort recommend installing attic insulation and aiming for an R-value of 38. Anything above this value can negatively affect your home insulation. Also, this can increase moisture content and invariably cause mold to grow.
When Does Attic Insulation Removal Become a Necessity
To decide when attic insulation removal is required, you need to factor in some considerations. Removing attic insulation is most recommended if there are issues of wet insulation, a major roof leak, pest infestation, and the absence of existing insulation. However, when any of these factors exist, it becomes necessary to remove attic insulation sooner than later. Consider the following factors to decide whether removal of attic insulation is needed.
Mold: It is common for mold to grow in the attic, especially when it is hot, lacks ventilation, or has black stains on the surface. If the growth damages only a portion of the attic, remove just the affected area; otherwise, complete insulation removal will be needed.
Damage: Roof leaks or significant condensation from the air conditioner can aid mold growth in your attic insulation. This is because a damaged attic can hold moisture, and moisture accelerates mold growth. Therefore, removing the damaged area is essential.
Pests: Pest infestation is a major problem of attic insulation. However, while insulation removal is required for this situation, you will also need to properly disinfect before putting in new insulation layers.
Wet: Wet insulation can hamper heat transfer in your attic. When your insulation is wet, moisture is trapped and can cause degradation of your roofing system. In this situation, insulation removal is recommended.
Upgrade Your Attic Insulation in Mississauga with EcoComfort
Adding new layers of insulation or removing old attic insulation in Mississauga before upgrading is possible, but it is safe to request professional assistance if you are unsure of your way around it. EcoComfort offers a wide range of attic insulation services, ranging from safe repairs, attic insulation removal to attic installation.
Contact the attic experts at EcoComfort today for proper care of attic insulation.