Why You Need Home Insulation in Toronto
Published on July 31, 2018
Insulating your home is one of the biggest ways you can prevent heat loss and be comfortable indoors all year round - two of many very practical reasons why you need home insulation in Toronto.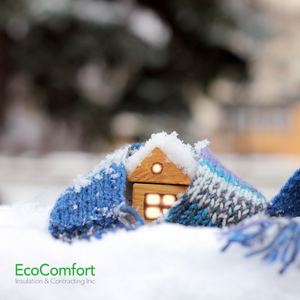 Insulation is a material that helps to slow down heat transfer in your home, but can have other benefits too, like acoustic dampening, fire, insect, or pest resistance. Insulation appears in all sorts of areas around our homes, the attics, walls, floors, and basement are some of the most important places that insulation is usually installed in.
Below are some of the most frequently asked questions why you need home insulation in Toronto:
1. What's so important about insulation?
In Ontario our seasonal temperatures can fluctuate wildly - a summer full of +30 degree days can easily give way to a winter of -30! Insulation helps to prevent the conditioned air your furnace or air conditioner makes from getting out, and the outdoor temperature from getting in. It makes it easier for those appliances to create conditioned air too, resulting in lower utility bills and better energy efficiency.
2. Why should I get attic insulation?
Insulation in only the walls and floors of our homes isn't enough to prevent heat loss. Insulating your attic is best compared to wearing a hat - in the winter, it's essential for keeping heat in, and in the summer a hat can provide needed relief from the heat. Because heat rises, having a well-insulated attic will help keep warmth below from escaping into the attic and out of your rooms.
3. Why should I insulate the basement?
Insulating your basement can make a huge difference to the livable area of your home. Many basements, especially those in older homes, have little to no insulation in them, which results in cold damp spaces. Insulation in the basement has an effect on energy bills as well, saving you as much as 40% on heating and cooling over a year.
4. How do I know if my home needs new insulation?
Like many things, many insulations have a shelf life, and certainly for older homes, building codes have changed and materials may be outdated or inadequate - not to mention toxic, like some types of asbestos contaminated insulation. If you haven't thought of the insulation in your home in at least ten years, you might need home insulation in Toronto, and it's best to have a professional come in to assess it for damage and deterioration. Because insulation is so often hidden away, it's sometimes difficult to know if it needs updating, but homes with poor insulation are often hot or cold, drafty, and have huge monthly heating and cooling costs.
5. What is Blown-in Insulation?
Blown in insulation is a quick and easy insulation product that is made of small pieces of an insulating material - the two most common materials are cellulose and fibreglass. Both are solid options, however, cellulose is the better performing material and recommended by our customers. These pieces are literally blown into the attic, walls, or cavities of your home where they create a thorough and flexible coating of insulation. Blown in insulation is a fantastic product for homes where the insulation needs a bit of a top up, or where the installation of a traditional batt-style product may mean days of construction, and since blown-in insulation can be installed through small holes, there's minimal mess and cleanup. If you need home insulation in Toronto, it's an affordable option that can greatly increase your home's energy efficiency and comfort.
6. What is Spray Foam Insulation?
Spray foam is one of the most modern and popular insulation materials on the market today, and just like blown in insulation, it can be used all around the home. Spray foam is made of resins and chemicals that arrive as a liquid and are sprayed onto the surface needing insulation. They then foam up and completely fill the space and can also act as an air and vapour barrier to further protect your home. Spray foam is slightly more expensive than traditional insulation methods, but its ability to completely cover a space (preventing any cracks or gaps) and create a solid barrier in your home means that it outperforms other insulations in the long run. It won't deteriorate and the upfront costs are minimized when they're compared to the yearly savings that spray foam insulation brings to the homeowner.
7. I need my old insulation replaced - can you do this too?
At EcoComfort, we pride ourselves on being able to do it all - from the safe removal of old insulation to a thorough cleaning, patching of holes and area assessment, to the painless installation of new insulation, the EcoComfort teams are able to install insulation from start to finish.
8. How can I get a Quote?
At EcoComfort, we like to be able to give our customers a personalized and thorough quote that takes into consideration the many factors at place in a renovation or retrofit. While individual homes each have their own requirements, we generally need to know the square footage of the space needing insulation, how many rooms you may have (for whole-home insulation), where you want to install insulation (walls, floors, ceiling), and the thickness and type of insulation you prefer.
How EcoComfort Can Help You
Renovating your home can be a huge project, with many decisions, questions, and unknowns factored in. At EcoComfort, our aim is to make the insulation part easy - our qualified technicians would be happy to answer your questions and offer suggestions if you need home insulation in Toronto. Give us a call today at 416-333-4554.