Why You Should Be Installing Rafter Vents
Published on March 04, 2022
Even with proper attic insulation in Toronto, inadequate ventilation in your attic space can create varying problems in your home from season to season. In the summer, poor attic ventilation traps heat in your household, while insufficient attic ventilation during the winter months in Toronto can create more humidity, resulting in damages to your roof or a mold outbreak. The best solution to such issues is installing rafter vents, a ventilation system that increases airflow in the attic and preventing such issues from occurring.
At EcoComfort, we understand the crucial role of proper ventilation in your attic insulation's performance. We have a wide range of attic ventilation options. Here's what you need to know about installing rafter vents to improve attic ventilation in Toronto.
What Are Rafter Vents?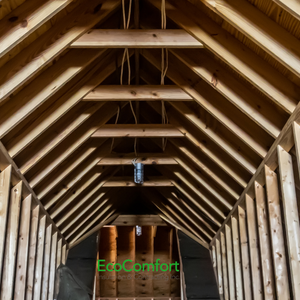 Attic rafter ventilation is designed to keep soffit vents clear, which are located on your roof's underside edge. Clearing soffit vents enables outside air to move easily and freely into the attic, before being ventilated out through roof vents.
Rafter vents aid air circulation throughout your attic, reducing heat intensity in the summer and protect your attic insulation in Toronto from excess humidity. Moisture is inevitable, but installing rafter vents keeps levels to a minimum while also preventing condensation. Rafter ventilation also stops ice damming in the winter. Overall installing a rafter vent system prolongs the attic insulation, preserves the condition of the attic, and reduces home energy consumption and costs.
Signs You Need Attic Ventilation in Toronto
A couple of troubling signs may indicate that you need rafter vents installed. A major indicator is a noticeable and unusual increase in your home's temperature in the summer, resulting in high energy bills due to an overuse of cooling systems. Without rafter vents, air cannot properly circulate in your attic, trapping heat and moist air in the space.
If you've noticed damages to your roof, you might want to look into your attic's insulation. Rafter vents balance the temperature in your attic, preventing damaging ice dams from developing. Without such ventilation, wet and hot air can compromise the durability of your attic and has significant impacts on your attic insulation. More importantly, a lack of rafter ventilation can lead to moisture accumulation and consequently mold issues.
Installing Rafter Vents
Since rafter vents are a complete roof vent installation system, technicians at EcoComfort will strategically place the vents during installation so that your insulation is not affected. In addition to rafter vents, we also install low profile vents, static ridge vents, gable vents and more. Each situation is unique, and we install ventilation based on your attic's needs.
Attic Inspections & Insulation Services
EcoComfort combines a detailed inspection of your attic and a guaranteed thorough installation of your ventilation to achieve ultimate performance. All of our ventilation systems are warrantied, with every install guaranteed to maximize efficiency. If you're not sure if you're in need of attic ventilation, schedule an attic inspection in Toronto with EcoComfort. Our team of trained technicians will identify vulnerabilities in your attic and recommend the best next steps to boost the performance of your attic insulation.