Why You Should Not DIY Attic Insulation Removal
Published on October 28, 2022
Have you noticed an increase in your utility bills without any changes in usage? Or do you experience excessive moisture, temperature fluctuations, or drafts in your home? If so, it may be time to remove and replace your attic insulation in Mississauga. Although do-it-yourself attic insulation removal can be tempting, it can cause many complications, resulting in spending more money than anticipated. To ensure your attic insulation is removed correctly, it's essential to contact an attic insulation company for professional insulation removal services. At EcoComfort, we provide affordable pricing and quality service guaranteed.
Here's why you shouldn't DIY attic insulation removal in Mississauga.
Risk of Toxic Materials in Insulation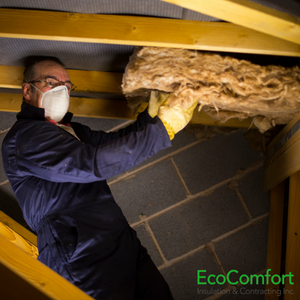 One of the most significant reasons DIY attic insulation removal is not recommended is due to the chance of toxic materials, like asbestos, present in your insulation. If your attic insulation in Mississauga hasn't been replaced in decades, your existing insulation may contain harmful materials that can impose serious health risks if you attempt to remove it. Asbestos is a toxic and carcinogenic material that can cause severe damage to your lungs if inhaled. Exposure to asbestos increases the likelihood of mesothelioma, asbestosis, and other extreme health conditions. To ensure your safety, it's best to contact an attic insulation company to remove your insulation effectively.
Rodent Infestations or Droppings
Rodent infestations and droppings are often the leading cause of insulation damage and the reason it needs to be removed in the first place. Pests can burrow their way into your attic insulation, create nests, and leave behind droppings. Not only do you need to call a pest control company to evict the pests before removing your insulation, but the droppings can also impose serious health concerns. Droppings from pests can be very harmful to inhale as they may contain noroviruses, making you ill. At EcoComfort, our attic specialists have the required personal protective equipment to do the job safely and correctly.
Spread of Mold Spores
Mold thrives under moist and humid conditions, so if your attic insulation has been damaged by water, the possibility of mold is highly likely. Mold and mildew destroy your attic insulation and impose serious health concerns if it's touched or exposed. Instead of stressing about harming yourself during DIY attic insulation removal, it's ideal to contact a team of professionals like EcoComfort, who are trained in attic insulation removal and mold remediation.
Knowledge, Equipment & Tools
Attic insulation removal is by no means easy and requires time, skill, and equipment to get the job done right. Attic insulation removal is messy, and thorough cleanups must be done afterward. Without professional knowledge, personal protective equipment, or tools for attic insulation removal, the job may not be adequately done - taking much longer and jeopardizing the possibility of issues down the line due to improper techniques. At EcoComfort, our experts always wear PPE and have advanced tools to complete the job smoothly and safely.
Attic Insulation Experts from EcoComfort
At EcoComfort, we aim to provide our customers with a comfortable home. Our team specializes in all things attic, offering high-quality workmanship and skills at a cost-effective price.
Forget DIY projects and count on the experts at EcoComfort to provide you with professional attic insulation removal services in the Greater Toronto Area.