Why You Should not Install Attic Insulation Yourself
Published on April 14, 2022
The attic is an integral space of your home, for it plays a massive role in regulating your household's indoor temperature from one season to the next. Aging attic insulation can create problems for the climate of your home, which new blown in insulation in Toronto can help remedy to boost attic performance. Some homeowners may source insulation materials and try to install attic insulation themselves, but it's always safer and more effective to work with a trusted insulation contractor in Toronto.
Going with a professional insulation contractor to install your new insulation guarantees that the insulation will be adequately implemented and perform at maximum efficiency. Installation crews at EcoComfort have the knowledge, expertise, tools and materials to ensure that the installation goes smoothly and that your new insulation lasts you a lifetime. More importantly, proper attic insulation saves you money, helping to reduce both energy and maintenance costs.
Finding the Right Amount of Attic Insulation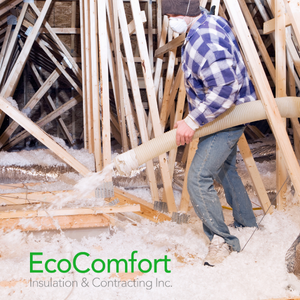 A professional insulation contractor in Toronto will have the appropriate knowledge to accurately determine how much attic insulation is required. Calculating the amount of blown in insulation in Toronto needed to fill your attic space is no easy task, and you could end up spending more money than you should if you attempt to install the insulation on your own.
The Expertise of Professional Insulation Contractors
Proper training and expertise are required to install your new insulation effectively. While EcoComfort products are eco-friendly and non-toxic, installing insulation can be dangerous if you don't have any prior experience.
If years have passed since you've last ventured into your attic, you may expose yourself to harmful toxins or elements in the attic space itself. Mold and even asbestos could be lurking in your attic, leading to serious illnesses when exposed to them. There's also the risk of coming in contact with pests, or hidden and loose wiring, which is an extreme safety hazard. A professional would have the necessary knowledge to navigate such dangers and how to properly address them as well.
During attic insulation, professional contractors wear proper PPE to protect themselves from exposure to hazardous toxins. They also have the appropriate tools and equipment required to install the insulation and are well-versed in operating them. And when it comes to installing blown in insulation, professionals can complete the task in a manner of hours. You're likely to save a lot more money and time with the professional route, which can also spare you the expensive do-overs that can arise with inadequately installed insulation.
Attic Insulation Removal & Mold Removal
You should always seek professional assistance when it comes to installing attic insulation. Doing it an expert's way will guarantee that your insulation will last decades,while doing it your way could pave the way for high energy and maintenance costs.
Choosing EcoComfort for Blown In Insulation in Toronto
In addition to attic insulation, EcoComfort also offers services in old attic insulation removal and mold remediation. Like installing new insulation, both should be left to professionals, as severe health hazards are associated with both instances.
If you have any questions about your attic's insulation, contact an expert at EcoComfort now!