Cellulose Attic Insulation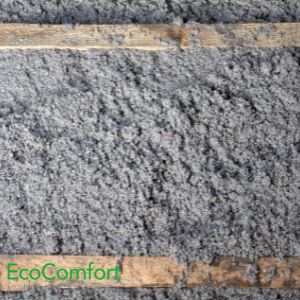 Is your home drafty? Do you have huge home heating and cooling bills? If so, it might be time to upgrade your home with cellulose attic insulation. Even if it's a space you rarely go into, the attic is a key part of your home's heating and cooling system, providing a barrier between the outdoors and your living space. Installing cellulose insulation in your attic can help you save on energy costs, feel more comfortable all year round, and help deter pests and mold growth. Most importantly, installing cellulose attic insulation is easy, fast, and affordable, making it one of quickest and most effective ways to see an improvement on your utility bills.
What is Cellulose Insulation?
Like any industry, insulation has its own specialized jargon and key terms - which confuse the best of us. When thinking about cellulose attic insulation, there's a few things you should know. 'Cellulose' is simply the proper name for the cellular structure that makes up plants. In this case, we're talking about the kind of plants that go into paper production. Cellulose insulation is made from post-consumer recycled paper waste, like cardboard boxes or office paper. It's treated with a non-toxic, naturally occurring chemical called boric acid, which helps it deter pests and makes it fire retardant.
Cellulose insulation is usually installed as a blown-in product that is many small, irregularly shaped pieces. This formulation allows for quick and easy installation as well as excellent R-values. R-value is another common term you might be familiar seeing. It's simply a way to measure an insulation's capacity to resist heat flow - like a letter grade, the higher the number, the better it does at keeping your house warm in the winter and cool in the summer.
The Benefits of Blown in Cellulose Insulation
There are many reasons why cellulose insulation is a popular material choice for attics across Ontario:
Cellulose insulation has great coverage, filling the nooks and crannies of your attic more effectively than batt-style insulation, which can sag and create air pockets.
New insulation helps to improve your home's energy efficiency and prevent heat loss.
Less heat loss means that your furnace doesn't have to work as hard. A furnace that is always on is a furnace that needs more frequent maintenance and will need to be replaced sooner.
Cellulose insulation is a fire retardant. The boric acid used to treat it can be found in many laundry rooms (where it's called borax), making it a safe addition to our homes.
Pest resistance is another benefit - boric acid deters and can even kill small insects, while also making it uncomfortable for animals like squirrels and raccoons.
Fast and easy installation make it a great choice for a homeowner in a rush.
It's an environmentally friendly option, containing up to 85% recycled paper products.
Home Comfort is Our Top Priority
Having a home that you feel comfortable in at the end of a long workday is as important to you as it is to us. Installing new cellulose insulation in the attic is one of the most cost effective ways of achieving greater home comfort and energy efficiency, and not just in the winter months - insulation also helps keep you cool in the summer months.
We often visit older homes to find the attic insulation in poor condition. There may not be enough of it, it's usually far below current building code standards, and sometimes it contains hazardous materials. Pests and water damage may also be visible, but either way, the attic insulation is underperforming and is costing a homeowner money.
In a poorly insulated attic, you'll find your rooms are constantly cold during the winter months, even though the furnace is always running. In the summer months, that scenario is reversed, and it's your air conditioner fighting against the heat. New cellulose insulation can help you stop this cycle of overwork and high utility bills, and help you realize a 30-40% savings on your heating and cooling costs by reducing this energy wastage.
The Importance of Choosing a Professional
Having a professional installation of blown in cellulose insulation is a key part of getting the best out of your insulation. Do it at home kits are available at many hardware stores, but re-insulating an attic is about more than just blowing in new materials.
The benefits that a homeowner gains from a professional installation are:
Our in-depth knowledge, training, and ongoing education about construction, new materials, and techniques.
A thorough assessment of your attic, which can help pinpoint problem areas where air leaks, pest infiltration, or moisture is present - all things that can contribute to poor performance
Sometimes adding insulation means that the attic will no longer have adequate ventilation, making your new product less effective. A professional installation will help prevent this!
Guaranteed workmanship and product warranties are part of all EcoComfort installations - some product warranties are void without qualified installation.
Friendly, professional teams with excellent project management.
Clean and safe removal of old insulation.
A professional installation of blown in cellulose insulation ensures that you'll be getting the best out of your product and that it last a long time. At EcoComfort, our mission is to offer the best, from removal to installation, and if you're not satisfied, we'll work with you until you are.
Install Cellulose Insulation for a Healthier, Happier Home
When it comes to investing in your home, the many options, decisions, and products can often seem overwhelming. But they don't have to be - products like cellulose insulation have been on the market for decades, and at EcoComfort, our professional teams have the experience and knowledge to not only install it right, but walk you through your options so that you feel confident in making your decision. You'll begin to immediately see the results from new blown in cellulose insulation in a reduction in your utility bills, an increase in your home comfort, better sound proofing, and a reduced risk of pest infiltration. Get in touch with us today for a free home assessment at 416-333-4554 or info@ecocomfortinsulators.ca.