3 Signs It's Time to Upgrade Your Attic Insulation in Mississauga
Published on November 16, 2023
Ensuring a comfortable and energy-efficient home involves attending to various elements, with attic insulation in Mississauga being a frequently overlooked yet crucial factor. The attic's role in temperature regulation significantly influences both comfort and energy expenditures. As insulation naturally degrades over time, its effectiveness diminishes, impacting your well-being and utility bills. If discomfort sets in or you observe a surge in heating and cooling costs, it may be an opportune moment to consider enhancing your attic insulation. Professionals in blown-in insulation, EcoComfort, can take care of your attic insulation needs. We look at three indicators signaling the need for this essential upgrade.
Rising Energy Costs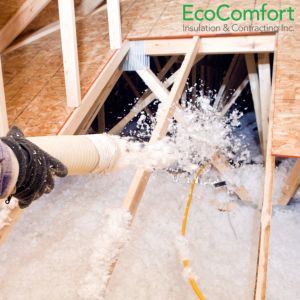 A conspicuous indication that your attic insulation warrants an upgrade manifests in a sudden upswing in your energy bills. As insulation ages, its efficiency diminishes, enabling more pronounced temperature fluctuations within your home. Consequently, your heating and cooling systems intensify efforts to sustain a pleasant indoor environment, resulting in escalated energy consumption. A consistent uptrend in monthly bills, particularly during extreme weather, unmistakably suggests your attic insulation is due for a refresh. Investing in contemporary, energy-efficient insulation materials not only yields long-term savings but also aligns with sustainable home practices. Rising energy costs far outweigh attic insulation costs, which is all the more reason to upgrade.
Discrepant Temperature Zones
Persistent discomfort in specific rooms, either excessively warm in summer or excessively chilly in winter, serves as a telltale sign that your attic insulation may be falling short. Maintaining an even temperature throughout your home is contingent upon effective insulation. As it depreciates, you may encounter drafts, cold patches, or overheated areas. Upgrading your attic insulation becomes instrumental in establishing equilibrium and comfort, obstructing the transference of heat and cold between rooms. Beyond elevating comfort levels, this action alleviates stress on your HVAC system, contributing to additional energy efficiency.
Visible Deterioration
A conclusive indicator prompting an upgrade in attic insulation in Mississauga is evident wear and tear. Over time, insulation materials succumb to factors such as moisture, pests, or natural aging, resulting in degradation. The identification of discoloration, dampness, or visible damage requires immediate attention. Compromised insulation is less proficient in temperature regulation and can contribute to heightened energy consumption. Regular inspections of your attic for signs of deterioration are imperative, and upon detection, consulting with our professionals at EcoComfort is recommended. Transitioning to more contemporary, resilient insulation materials not only bolsters energy efficiency but also shields your home from potential structural impairment stemming from compromised insulation.
Work with the Best in Attic Insulation
Vigilance regarding attic insulation is crucial for cultivating a comfortable and energy-efficient living space in Mississauga. Should escalating energy bills, incongruent temperature patterns, or visible signs of wear and tear become apparent, call professionals in attic restoration, EcoComfort, for an attic insulation upgrade. This is imperative for improved comfort, reduced energy expenses, and a more eco-friendly residence.