5 Benefits of Blown In Insulation
Published on May 16, 2022
Attic insulation comes in a wide selection with varying properties, ranging from colour, performance, and r-value. Blown in insulation is quickly becoming a popular choice of attic insulation in Toronto among the city's homeowners for its desirable qualities, cost-effectiveness, and efficient performance. When installed professionally by the trusted technicians at EcoComfort, blown-in insulation has a long lifespan, improves energy efficiency in your property, and keeps the heat in your home.
Read on to learn more about the benefits of blown in cellulose insulation in your attic.
R-Value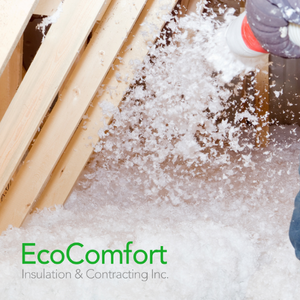 Blown in insulation is perfect for reaching all the nooks and crevices of your attic, effectively covering all areas with a dense thermal blanket. As a result, your attic will keep heat in and cold air out. R-value, in essence, measures how well insulation performs and retains heat — and blown in insulation has exceptional r-value levels.
Fire Resistance
Fire resistance is always a big advantage, especially regarding attic insulation in Toronto. At EcoComfort, our blown-in cellulose insulation is inherently fireproof. During the manufacturing process, it's treated to prevent fire from spreading, and as a result, it doesn't burn at high temperatures. Additionally, the airtight seal that this insulation creates limits the availability of oxygen, further preventing the spread of fire. In tests and studies, it's been proven that blown in insulation is 50% more fire resistant than other types. For optimal fire resistance and heat retention, blown in cellulose insulation is the top choice.
Mold Resistance
Mold outbreaks are always a concern in attics, often due to leaks, condensation, and humidity. However, blown in insulation from EcoComfort is completely airtight, so there's no chance of condensation and moisture entering your attic. Without condensation or excess moisture, the likelihood of mold infiltrating your attic is significantly low. Further, blown in cellulose insulation won't fall victim to mold growth if it's dry; without a water supply present, it doesn't provide the optimal conditions for mold infestations.
Longevity
Blown in insulation has a long lifespan and often lasts upwards of two decades. Although this type of insulation has a high settling rate — as much as 20% — we at EcoComfort counteract the settling rate by adding more insulation and compressing it during the installation process. Adding approximately 20% more insulation and packing it in encourages the insulation to settle upwards rather than down. As a result, it expands to fit in the space, creating a far more airtight environment. Creating a more airtight environment will keep humidity, leaks, and pests out, ultimately keeping your insulation strong and long-lasting.
Installation Time
Installing blown insulation is an efficient process that can be completed within a day. The insulation is delivered through a hose that blows the material directly into your attic, effectively and quickly covering all spaces required. With professional installation from EcoComfort, our team will ensure that your attic is covered with a dense thermal blanket that will provide high levels of r-value.
Professional Attic Insulation Installation
If you think it's time to upgrade your attic insulation, look no further than blown in insulation from EcoComfort. Blown in insulation is durable, fire-resistant, and will cover every hard-to-reach area of your attic.