A Guide to Attic Insulation Before Selling Your Home In Mississauga
Published on September 06, 2022
You may wonder how your attic insulation impacts the sale of your home, but it makes a big difference for potential buyers. In fact, installing new blown in insulation is one of the most significant improvements you can make when selling your home. Sufficient attic insulation in Mississauga is a must for many homeowners as they understand the consequences of poor insulation, like bad air quality, air leaks, pests, and inconsistent indoor climate. Before selling your home in Mississauga, there are a few things you need to know about attic insulation. At EcoComfort, we offer expert attic insulations at a cost-effective price, so you're prepared to sell your home.
Continue reading to learn how attic insulation can help with the sale of your home.
Are There Any Problems With Your Insulation?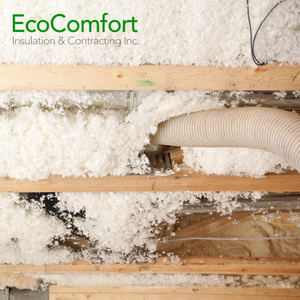 While searching for any issues in your home before you sell, you should also check out the status of your attic insulation in Mississauga. Take a look in your attic or crawlspace and search for any obvious problems that are clearly visible, like signs of rodents, mold, water damage, or insulation destruction. If you notice anything wrong with your insulation, it's essential to reach out to a team of experts to upgrade your attic insulation. In addition, if you're looking to add more value to your home and to receive your asking price from buyers, upgrading your insulation is a great way to increase the price of your property.
Insulation Upgrades Add Significant Property Value
The first thing you should do before selling your home is to look for any upgrades you can add to increase the property value. Adding new insulation not only increases the value of your home, but most homeowners get 108% back on their investment. In addition, if you market to buyers that your home has just been recently checked for moisture, rodents, and pests, and has new insulation, the buyer will feel comfortable knowing there's no potential for mold to grow if they were to purchase the property. Also, buyers will have better energy efficiency if their home has adequate attic insulation, making it a great selling point for buyers. At EcoComfort, our contractors have years of experience installing blown in insulation for residential homes, so you can increase your property value with ease.
Choose EcoComfort for Premium Insulation
With years of experience installing insulation in attics, the technicians at EcoComfort are confident you'll see a significant improvement in your energy efficiency, indoor air quality, temperature distribution, and overall comfort in the home. Before selling your home, consider upgrading your attic insulation to increase your home's price and to make your money's worth.
Interested in increasing your property value? Reach out to the team at EcoComfort!