Avoid These 6 Problems With High Quality Attic Insulation
Published on January 11, 2022
The main purpose of any attic insulation in Toronto is to keep your home warm in winter and in the summer. But in addition to maintaining seasonal comfort, there are a host of additional benefits that come with installing high-quality attic insulation. As for the overall attic insulation cost, the energy savings throughout the year will easily offset the initial investment.
Homeowners upgrading their attic insulation in Toronto notice a difference almost immediately in home comfort. And with a high-quality insulation product, the improvement can be dramatic. On the flip side, a poorly insulated attic with a low-quality product will not provide optimum energy efficiency and will therefore result in high energy bills annually.
The Benefits of Installing High-Quality Attic Insulation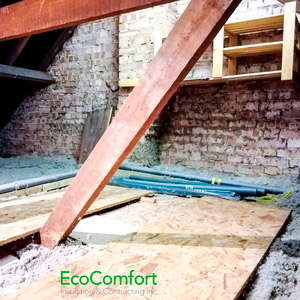 High-quality attic insulation can prevent a number of potential problems in the attic, roof, and throughout the home. Overall, it pays to choose a higher quality product and take advantage of the numerous performance benefits even if that means a higher attic insulation cost upfront.
Improving Air Quality: With high-quality attic insulation, various outdoor pollutants are better controlled, thus improving air quality throughout the home. Particularly in the winter, when air ventilation is more internalized, better air quality ensures better health for home occupants.
Increasing Home Value: Quality attic insulation, with high R-Values, is an attractive selling feature in any home. While the installation itself may not be visible to a prospective homebuyer, the quality feature is important when it comes to energy efficiency and related energy costs.
Preventing Ice Dams: Good attic insulation, along with a professional install, can reduce and sometimes eliminate ice dams from forming on the roof. This is important in preventing winter damage throughout the roof cavity and your home's attic, as well as additional damage right in the home.
Reducing Noise: When installed by experts, (and the right product), attic insulation can help to reduce outside noise from infiltrating into the home. Many insulation products are actually rated with an SPF measurement which indicates the levels of sound transmission.
Controlling Mold: Controlling mold growth is all about controlling air moisture. And in the attic, this is achieved by effectively air-sealing the space while installing quality insulation material. A properly sealed and well-insulated attic controls moisture, humidity and condensation.
Countering Fire: Blown-in cellulose insulation is chemically treated to resist the spread of fire. It has to be correctly installed so that it doesn't pose a fire hazard. On the other hand, with a shoddy installation and a poor-quality product, there could be a threat of a potential fire.
Upgrading Attic Insulation with the Experts at EcoComfort
Local homeowners installing attic insulation in Toronto can count on the experts at EcoComfort Insulation and Contracting for guaranteed long-term performance and results. We typically recommend blown-in cellulose because it's a high-performance product and a very cost-effective installation. Now, when it comes to attic insulation cost, it's the improved energy efficiency throughout the home that makes the original investment well worthwhile. Blown-in cellulose provides satisfactory R-Values and enhanced indoor comfort season after season – it's an ideal upgrade for any residential home.