Beat the Heat with New Attic Insulation in Toronto
Published on June 07, 2022
Summertime in Toronto is hot, but the temperature can always fluctuate. We've already experienced several storms that demonstrate the effect of the heat, so how can we leverage attic insulation removal and new attic insulation in Toronto to turn our homes into a reliable oasis from the heat? Without proper attic insulation, the air circulation in your home may not be up to par. There's a good chance that the summer heat will be trapped indoors, where you could experience anything from heat stroke to heat exhaustion.
Our attic service experts at EcoComfort have the knowledge, experience and tools to remake your attic and improve your home's airflow. Not only will we safely remove your old insulation, but we'll help you pick the best attic insulation for your home and properly install it for you. Read more about the role that attic insulation plays in regulating your home's temperature and why you should consider installing new insulation this summer.
How Insulation Cools Your Home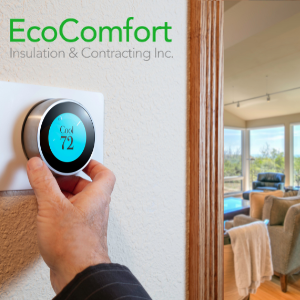 Air conditioning plays a critical role in cooling your home during the hot summer season. But the job that your attic insulation in Toronto has in regulating your home's air circulation is just as crucial.
Depending on the quality of your attic insulation, your household may experience the stack effect. The stack effect occurs when heated or air inside your home is replaced with outside air conditions due to inefficient airflow brought on by lacklustre attic insulation. In the summer, poor attic insulation will replace the cold interior air of your home with warm exterior air, as insufficient attic insulation typically does not ensure substantial airtightness. The cool air of your home will escape and bring in the outside's warmth, trapping it inside.
However, you don't want to over-insulate your home and have it too tightly sealed. Of course, the purpose of insulation is to tightly seal the interior. But a home that is too airtight will trap moisture in the insulation layers, which can lead to mold growth. Mold contaminating your insulation will not only compromise your insulation's performance, but you'll also be breathing in toxic air circulating throughout your home.
Signs Your Attic Insulation Needs Upgrading
If your home is experiencing gruelling, warm temperatures, and the energy costs from your overworked air conditioner are on the rise, you may need to look into attic insulation removal. Your attic's insulation is not regulating and maintaining the ventilation in your home, causing your cold air to escape outside while letting in the summer heat.
Upgrading Your Attic Insulation
If you want your old attic insulation to be removed properly and your new insulation to be installed efficiently, reach out to EcoComfort to get the job done right. Having attic insulation done professionally saves you money from future maintenance costs. More importantly, professional installation ensures that your home's temperatures will be adequately regulated throughout both the winter and summer months.
Contact an expert at EcoComfort now to see how we can help restore your home's indoor temperature!