Can Old Attic Insulation Make You Sick?
Published on July 27, 2022
Attic insulation can provide plenty of value to your home as an insulator that regulates your home's climate. However, attic insulation in Toronto and elsewhere in the GTA can impact the air quality in your home year-round. When that insulation becomes aged, settled, or infested, it can harm the health and comfort of those living there. It's essential to monitor the air quality in your home, as when it dips, it can negatively affect the people you live with. That's why it's essential to monitor the signs for attic insulation removal. EcoComfort attic experts can provide a comprehensive attic inspection to determine if you need to upgrade your attic insulation.
Read on to know if old insulation can make you sick.
Your Attic and Mold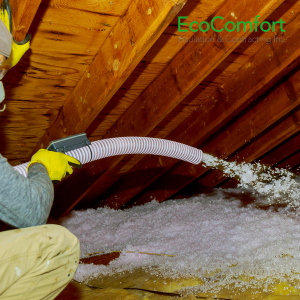 The primary purpose of attic insulation in the GTA is to maintain a hospitable indoor climate. When your insulation is not working properly, it can make your home colder than it should. Unfortunately, a cold house isn't just a matter of comfort. A cold home leads to air dampness and condensation, making the perfect conditions for mold growth. Mold in your attic can cause problems to your health and home, making it a real pain to eliminate.
Your Attic and Pests
Every homeowner's nightmare is pests making your home theirs, and unfortunately, old attic insulation in Toronto can be their favourite place to hide. From birds to rodents, these pests can multiply at an alarming rate, quickly taking over your attic, and the longer they stay in your home, the harder they become to get rid of. Not only are they hard to get rid of, but they will often damage your insulation and leave plenty of contaminant bacteria behind.
Your Attic and Asbestos
If you own an older home, chances are you've heard of asbestos. This toxic mineral was once a staple of attic insulation and can cause some severe damage to you and your family. Most often, asbestos can be found in the vermiculite and batt types of insulation and should always be removed by a team of professionals with the proper equipment. Though the word "toxic" can be alarming, it's important to remember that most asbestos-containing materials are only harmful when disturbed or damaged. If you suspect your attic has asbestos, the best solution is to get professionals involved that can help you.
Upgrade to Cellulose Insulation
Once your attic is inspected, and your ineffective insulation has been removed, you're ready for new insulation. EcoComfort uses blown-in cellulose insulation treated with mold-resistant chemicals, so you don't have to worry about getting sick. Blown-in cellulose is an eco-friendly, effective insulation material that leaves your home safe and comfortable.
Your home's air quality is essential to your and your family's overall health. That's why it's crucial to ensure your attic's insulation is helping you, not hurting you. Inspections or assessments for attic for insulation removal are always done best by experienced professionals like those at EcoComfort.
Call today to find out how you can make your home healthier.