Common Attic Insulation Myths in Toronto
Published on September 25, 2023
Attic insulation in Toronto is now made easier with a trusted and respected contractor: EcoComfort. We often underestimate the need for insulation, which is crucial for a house's energy efficiency and comfort. Many prevailing myths and misunderstandings can cause confusion. Regardless of whether you live in chilly Toronto or a warmer city, having a firm grasp of the facts concerning attic insulation is imperative for maintaining year-round comfort and energy conservation.
Read on and debunk common misconceptions regarding attic insulation in Vaughan and surrounding areas.
Common Myths & Misconceptions About Attic Insulation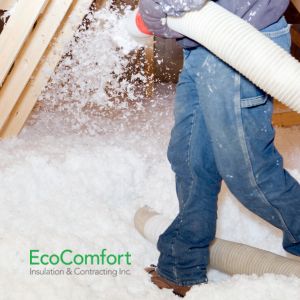 Myth: Insulation alone can resolve all energy efficiency issues.

Clarification: While insulation is vital for energy efficiency, addressing air sealing, ventilation, and HVAC system conditions is also crucial for optimal results. Our team of trusted attic experts can help provide insight into the attic improvements your home needs to power your attic insulation.

Myth: Insulating the attic is solely necessary in cold regions.

Clarification: Attic insulation benefits homes in both cold and hot climates, as it conserves heat in cold areas and reduces heat transfer in hot regions. Attic Insulation in Toronto is no different to warmer regions.

Myth: All insulation materials are identical.

Clarification: Various insulation materials are available, each with unique properties, R-values (which is a measure of insulation efficiency), and installation requirements. At EcoComfort, we recommend cellulose blown-in insulation for attic insulation in Toronto, as it offers longevity and performance.

Myth: Attic insulation must cover the entire attic floor.

Clarification: Insulating the attic floor is typical in attics that are part of the living space. However, attics that aren't part of the living space require insulation on the roofline to create a conditioned space.

Myth: More insulation is always best.

Clarification: While adding insulation is essential, there's a point of diminishing returns where additional insulation may not significantly boost energy efficiency.

Myth: You can't have too much attic ventilation.

Clarification: While ventilation is vital, excessive ventilation can lead to energy loss, emphasizing the need for a balance between insulation and ventilation.

Myth: Attic insulation requires no upkeep.

Clarification: Regular inspections and maintenance are essential to ensure insulation remains effective and free from damage or pests. EcoComfort are respected contractors that can help with this and you can have peace of mind the job is done correctly and professionally.

Myth: DIY attic insulation is always cost-effective.

Clarification: While some homeowners can install insulation themselves, mistakes may reduce its effectiveness. Professional insulation contractors such as EcoComfort are a better choice in most cases.

Myth: New homes have sufficient attic insulation.

Clarification: New homes may meet code requirements, but assessing and potentially upgrading attic insulation is advisable for improved energy efficiency.

Myth: Attic insulation has no impact on indoor air quality.

Clarification: Damaged insulation or moisture intrusion can affect indoor air quality, leading to mold and allergen issues. Maintaining insulation integrity is crucial for indoor air quality.
Explore Your Attic Insulation Needs with EcoComfort
When it comes to home improvement, attic insulation in Vaughan and surrounding areas cannot be overlooked. It's important to separate myth from fact when making decisions that influence energy efficiency and overall living conditions. EcoComfort distinguishes itself as industry leaders in attic insulation solutions. They are pioneers in attic insulation upgrades, attic insulation removal, attic ventilation, and attic mold remediation. More importantly they know myth from fact so you can be assured living in your home will be energy efficient and comfortable.