Create a More Sustainable Home with Efficient Attic Insulation in Toronto
Published on August 24, 2023
With climate change accelerating at an unprecedented rate, concern about the health of the environment and our individual contributions are growing. As a result, many of us have turned to sustainable living. Energy use is a significant factor that goes into greenhouse gas emissions, and that's why EcoComfort works with customers around the Greater Toronto Area to improve energy-efficiency and minimize costly waste in the attic. Attic insulation in Toronto is a significant factor in this. As we work specifically with blown-in insulation, we want to provide the most energy-efficient and cost-effective solutions for you and your lifestyle. We are a leading insulation company in Toronto that services the GTA to help homeowners live more sustainably, so if you are looking for attic insulation in Vaughan, Toronto, Mississauga, or any of the neighbouring areas, EcoComfort is here to help.
Learn about how insulation can help to create a more sustainable home.
Choosing the Right Insulation Material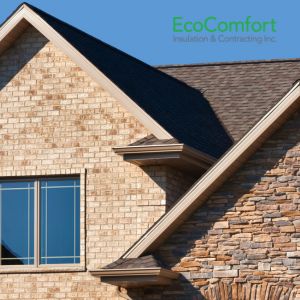 Blown-in cellulose insulation presents a powerful solution for optimizing attic insulation and bolstering energy efficiency in your home. Composed of recycled paper fibers treated with flame retardants, this type of insulation is not only environmentally friendly but also provides exceptional thermal resistance. The unique structure of cellulose insulation allows it to effectively fill even the tiniest gaps and voids in the attic, creating a seamless blanket of protection. This translates to minimal heat transfer between your living spaces and the outdoors, reducing the strain on your heating and cooling systems. Beyond its remarkable insulating properties, blown-in cellulose also boasts soundproofing capabilities, curbing unwanted noise infiltration. By embracing this insulation option, homeowners can enhance both comfort and sustainability within their living environment while reaping the long-term rewards of lower energy consumption.
Upgrading Your Insulation
If your home has used the same insulation for several years, it may be time to consider replacing it. Though insulation in Vaughan can last anywhere from 20-80 years, over time, it wears down or compresses, gradually decreasing effectiveness. If you notice the following, it may be time for a replacement.
Uneven temperatures in your home
Higher than average energy bills
Your home is drafty
Excess moisture in insulation and around your home
At EcoComfort, we recommend blown-in insulation as it can fill small cracks and crevices that are hard to reach. It also creates the least amount of mess during the installation process. It is recommended to be done by a professional as proper protective equipment is necessary.
Resorting to Other Heat/Cooling Sources
Living sustainably can help with both your energy bill and control your contribution to gas emissions. Consider taking a break from your HVAC system and resorting to other ways to heat or cool your home. In the winter, use your fireplace to enjoy a relaxing sanctuary while saving energy. In the warmer months, open a window or turn off the AC when you're out of the house.
Attic Insulation & Sustainable Living with EcoComfort
Here at EcoComfort, we value sustainability and healthy living. That said, we provide high-quality services to ensure your home is up and running. We are a leading insulation company in the GTA, from Toronto to Vaughan to Mississauga. If you experience faulty insulation or want to live more sustainably, contact our professionals at EcoComfort to choose the best method for you.