Has Snow Damaged Your Attic Insulation in Toronto
Published on March 16, 2023
As winter gives way to spring, warmer temperatures can cause snow to melt and create moisture on roofs. This increase in moisture can be problematic for roofs and attic insulation in Toronto, as it can seep into cracks and crevices and cause damage over time. Investing in properly installed attic insulation is critical to preventing damage to your home as is identifying any damage that occurred over the winter season. With the help of the attic experts at EcoComfort, you can get the attic roof leak repair you need sooner rather than later. Our team is highly specialized in roof and attic services, that's why we provide a guarantee on all of our work.
Read on to learn how you can determine if your attic insulation has been damaged by snow this past winter.
Causes of Attic Insulation Damage Due to Snow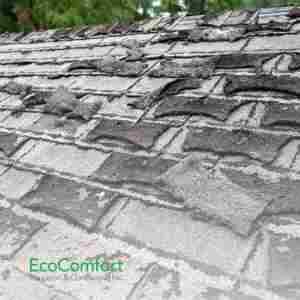 Persistent pressure and damage from snow, ice storms, and high-speed winter winds is typically the cause of damage to attic insulation in Toronto, causing melting snow seep in through the shingles. Once the insulation becomes wet it can easily become contaminated with mould and lose its efficacy.
Signs of Attic Insulation Damage
Homeowners can look for several signs to determine if attic insulation is damaged. First, when looking at snow on one's roof can give clues if one area is not adequately insulated. If snow spreads evenly across the roof, that is a positive sign.When you notice large patches where the snow seems to have melted on the roof while, at the same time, other areas still have a thick snow cover it can indicate that heat from the house is going to the roof and melting the snow, thus requiring immediate attention to remedy the insulation in that section.
Another indicator of attic insulation damage is if you notice larger-than-normal icicles hanging from only some areas of the roof. This can be indicative of ice dams, unfortunately. These are caused when heat escapes through the roof and melts the snow, and the water enters eaves where it may freeze as it is colder and thus prevent proper drainage.
Results of Leaks and Wet Insulation
Attic leaks are terrible news for homeowners as they can lead to damaged ceilings, walls and attics and are costly to repair. Aside from mold outbreaks, wet attic insulation does not offer the same thermal protection and R-Value as insulation when dry. In most cases, water damaged attics will become infiltrated with mold requiring attic insulation removal and attic mold remediation.
EcoComfort offers attic insulation in Toronto and would be happy to do an attic inspection and investigate if a roof leak repair is needed and what can be done to remedy or prevent any issues that may be present.
Why Upgrade Your Attic Insulation
It is important to upgrade your attic insulation and keep your home roof and attic free of leaks and mold outbreaks.
When looking for an attic insulation company, look for one that guarantees and stands by the quality of their work. EcoComfort thoroughly inspects your attic's ventilation, insulation, evidence of water leaks and more. When choosing a company specializing in only attics, they know what to look for and can ensure a high-quality repair.
Choose EcoComfort the Best Attic Insulation in Toronto
If you fear your attic may have been damaged this winter, do not hesitate to contact EcoComfort's knowledgeable team of experts and allow them to walk you through the process of investigation and appropriate solutions for your home.