How Does Attic Insulation in Toronto Conserve Heat?
Published on November 26, 2021
Attic insulation benefits the entire home throughout the year. In winter, a properly insulated attic keeps the home warm, while in summer, it keeps the home cool. More than just indoor comfort, high-quality attic insulation maintains energy efficiency from season to season. For homeowners considering upgrades to their attic insulation in Toronto, blown-in insulation is a viable option. Blown-in cellulose insulation is a high-quality product that offers satisfactory thermal protection while providing much-improved energy efficiency all year long, in the ever-changing southern Ontario climate.
With the increasing cost of natural gas and electricity, improved energy efficiency is the key to saving money on winter heating and summer cooling. As such, upgrades to attic insulation are the first step in making the home both comfortable and energy-efficient.
Attic Insulation Works to Retain Heat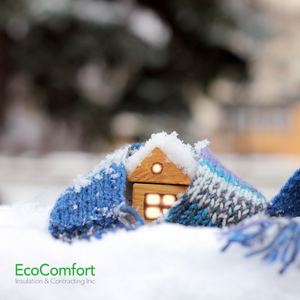 Attic insulation is designed to reduce "heat transfer." So, when a home is well-insulated, less warm air escapes from the house in winter, and less cool air escapes in summer. As a result, the energy required to heat and cool the home is minimized. Since hot air rises, it's critical to properly insulate the attic and roof to enable heat retention.
The Attic is Central for Heat Retention
With a professional installation, attic insulation in Toronto forms a "thermal barrier" that prevents warm outdoor air from intruding in summer and warm indoor air from escaping in winter. Essentially, blown-in insulation in Toronto will slow down heat transfer, thus keeping a home comfortably cool in summer and warm in winter.
Attic Insulation with Good R-Values
Insulation performance is generally specified by R-Values. These parameters measure the insulation's capacity to resist "heat transfer." And, of course, the higher the R-Value, the better the performance. A professional installation contractor will recommend the best insulation R-Value in a particular situation.
Poorly Performing Attic Insulation
When attic insulation is not performing at peak, there are obvious signs and symptoms. Heating and cooling bills may be higher-than-normal. There may be high levels of air moisture in the attic. And in the home, rooms might have wavering temperatures. In short, indoor comfort is noticeably lacking. An expert EcoComfort attic inspection in Toronto will help to assess vulnerabilities in your attic insulation and determine whether you're in need of an attic insulation upgrade.
The Benefits of Blown-in Cellulose Insulation
In the attic, blown-in cellulose is a cost-effective installation with long-term performance. Compared to other products, blown-in insulation is the ideal for insulating "hard-to-reach" spaces in the attic and roof cavity. For upgrading attic insulation in Toronto, this product offers satisfactory R-Values.
Assessing The Effectivness of Attic Insulation in Toronto
The best way to assess the performance of existing attic insulation is to arrange for a professional attic inspection. This is where a qualified inspector will determine if the insulation is performing as expected or if upgrades and retrofits are required. The aim, of course, is to optimize performance year-round.
Quality Attic Insulation in Toronto
In Toronto and the GTA, EcoComfort Insulation & Contracting offers a range of professional services, including attic inspections, insulation removal, and installation of new products. We often recommend the blown-in cellulose product because of the long-term benefits. Our finished installations improve indoor comfort in winter and summer while providing cost savings on seasonal energy consumption.
Contact us today to learn more about the benefits of attic insulation upgrades in Toronto