How to Improve the Efficacy of Your Blown-In Insulation
Published on November 10, 2023
As temperatures in Mississauga start to drop, ensuring your home is well-insulated becomes crucial for maintaining comfort and energy efficiency. One effective method gaining popularity is blown-in insulation. This versatile solution not only offers excellent thermal resistance but also provides an even layer of coverage, making it ideal for attics. To learn more about how to optimize the efficacy of your blown-in cellulose attic insulation in Mississauga, Toronto, and the GTA, contact EcoComfort Insulators to get started with attic inspections.
Read our practical tips to optimize the efficacy of your blown-in insulation, specifically tailored for Mississauga residents seeking improved attic insulation.
Understanding the Basics of Blown-In Insulation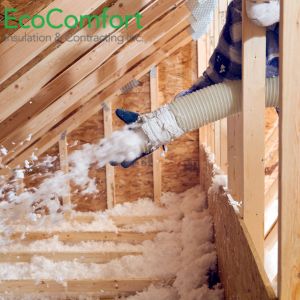 Blown-in insulation, as the name suggests, involves the application of loose insulation material, by blowing or spraying it into the desired space. In the context of attics, this method ensures a seamless layer that conforms to irregularities and hard-to-reach spaces, providing superior insulation compared to traditional batting. To maximize the benefits of blown-in insulation, it's crucial to start with a well-prepared attic space. At EcoComfort, we use high-quality cellulose insulation for all our attic insulation projects. Our skilled experts use the best cellulose insulation materials available and provide expert installation.
Attic Preparation for Optimal Insulation
Before diving into the blown-in insulation process, ensure your attic is properly prepared. Remove any existing debris, dust, or old insulation material. Address any leaks or gaps in the attic structure, as these can compromise the effectiveness of the insulation. Paying attention to these details ensures a clean slate for the blown-in insulation process, allowing for consistent coverage and a more energy-efficient outcome.
Professional Assessment for Custom Solutions
To achieve the best results, consider hiring professionals for a thorough assessment of your attic insulation needs in Mississauga. Professionals can identify specific areas that may require additional attention, ensuring that your blown-in insulation is strategically placed for maximum efficacy. Moreover, they can help you select the most suitable insulation material based on your budget and energy efficiency goals, guaranteeing long-term satisfaction.
The Importance of Air Sealing
One aspect often overlooked when addressing attic insulation in Mississauga is the importance of air sealing. Blown-in insulation works best when it is combined with a well-sealed attic space. Identify and seal any gaps, cracks, or openings that may allow air to escape or enter. This step not only enhances the insulation's performance but also contributes to overall energy savings by preventing conditioned air from escaping your home.
Blown-In Insulation Equipment and Technique
Investing in quality blown-in insulation equipment is essential for achieving uniform coverage. Whether you choose to rent professional-grade equipment or hire a contractor, ensure that the machinery is well-maintained and suited to the insulation material you've selected. Additionally, pay attention to the technique used during the application. Our specialists at EcoComfort use a systematic and evenly distributed approach to ensure that every nook and cranny in your attic receives the insulation it needs for maximum performance and longevity.
Monitoring and Maintenance
Once your blown-in insulation is in place, it's essential to monitor its performance regularly. Check for any signs of settling or gaps that may have formed over time. Addressing these issues promptly ensures that your insulation continues to provide optimal energy efficiency in the long run. Regular maintenance can significantly extend the lifespan and effectiveness of your blown-in insulation.
Upgrade Your Attic Insulation in Mississauga
Energy efficiency is vital for property owners as it leads to better cost saving and indoor comfort. Blown-in cellulose insulation stands out as a versatile and effective solution for Mississauga homeowners. By understanding the basics, preparing your attic, seeking professional guidance, incorporating air sealing, utilizing proper equipment and techniques, and implementing regular maintenance, you can significantly improve the efficacy of your blown-in insulation.
Get started with EcoComfort.