Link Between Attic Insulation and Your Attic Health
Published on February 20, 2023
Your attic may not be the most frequently used space in your home, but it plays a critical role in maintaining the overall health and performance of your home. One of the most important factors to consider when it comes to attic health is attic insulation in Mississauga. The quality and condition of insulation materials can directly impact your home and indoor comfort. When your insulation stops performing, upgrading to blown-in insulation can restore health to your home and attic. EcoComfort is a leading provider of attic insulation in Mississauga. Our expert teams provide a complete range of attic services, from inspections to attic insulation upgrades.
Read on to learn more about attic insulation and its impact on attic health.
Indoor Air Quality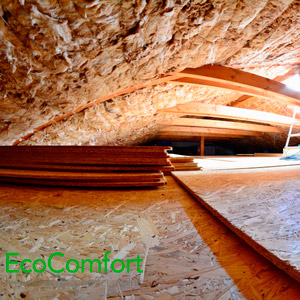 The quality of the air inside your home is directly impacted by the quality of your attic insulation in Mississauga. Poor insulation can lead to air leaks and drafts, which can result in a variety of problems, such as increased energy costs, uncomfortable living spaces, and even respiratory issues. Proper attic insulation helps to reduce air leaks, maintain indoor air quality, and ensure the comfort and health of your family. To determine if your insulation is contaminated or in poor condition, schedule an attic inspection with the experts at EcoComfort.
Attic Mold & Remediation
Mold thrives in damp, poorly ventilated areas, and can be particularly problematic in attics. This can lead to a variety of health problems, particularly for those with allergies or respiratory issues. Replacing outdated insulation with a more modern, effective solution like blown-in cellulose insulation can help prevent the growth of mold and improve overall attic health. At EcoComfort, our blown-in insulation is treated with mold-resistant chemicals to slow and prevent the onset of mold infestations in attics. If your attic is currently affected by an infestation, contact our teams for attic mold remediation in Mississauga and the Greater Toronto Area.
Attic Insulation Performance
Outdated attic insulation can also negatively impact the overall performance of your attic. Without proper insulation, attics can become too hot in the summer and too cold in the winter, leading to decreased energy efficiency and increased energy costs. Upgrading your attic insulation can help regulate temperature, improve energy efficiency, and ensure that your attic performs at its best.
Benefits of Blown-In Cellulose Insulation Services
Blown-in cellulose insulation services offer a range of benefits for homeowners looking to upgrade their attic insulation. Cellulose insulation is a modern, eco-friendly insulation material made from recycled newspaper and treated with boric acid to resist mold and pests. The material is blown into the attic using a specialized machine, filling gaps and crevices and creating a continuous insulation barrier that helps to regulate temperature and maintain indoor air quality.
Attic Insulation Upgrades Mississauga
Ecocomfort is a top choice for attic insulation upgrades in Mississauga due to its commitment to quality, expertise, and eco-friendly approach. Our highly trained, knowledgeable, and experienced teams specialize in blown-in cellulose insulation state-of-the-art equipment and techniques to ensure a smooth and efficient installation process.
Book an Attic Inspection: Contact Us Today.