What Causes Black Spots on Attic Insulation in Mississauga
Published on November 22, 2022
Attic insulation plays an integral role in regulating your overall indoor climate. Beyond comfort, well-maintained home temperature with high-quality attic insulation helps to reduce monthly energy costs and improve air quality indoors. However, with time, attic insulation in Mississauga succumbs to environmental factors, such as moisture and invasive contaminants. As a result, you may notice it change colour. Black spots on your attic insulation spell trouble for your home's energy efficiency and indoor air quality.
To restore health to your attic insulation in Mississauga, consider upgrading to blown-in insulation, starting with an attic inspection from certified professionals like EcoComfort. Doing so
But what causes those dark spots in the first place? Keep reading to find out.
Detecting Attic Mold Infestations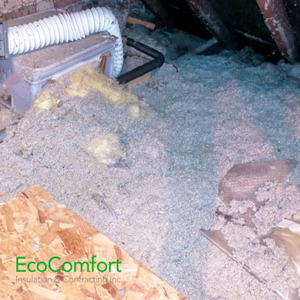 Mold may grow on your attic insulation when moisture combines with oxygen. If you spot black mold in the early stages, you can simply solve the issue by replacing that attic insulation part. However, delayed detection leads to significant damage to the insulation. Therefore, it would be best to replace the whole insulation.
Although it may not have significant health implications, mold growth on the attic insulation affects its ability to insulate your home against external temperature variations. As a result, it will lead to higher energy consumption. Mold reduces the effectiveness of the insulation and contaminates indoor air quality. This leaves your home unprotected and exposes your loved ones to unclean air. Therefore, we recommend immediate attic insulation removal and an upgrade to blown-in insulation as soon as you detect it.
Attic Mold Remediation Services
If small patches of black mold are on your insulation, you can opt for the do-it-yourself approach. However, you should wear protective gear, including respiratory protection and gloves. Also, dispose of it properly to prevent it from spreading to other parts of the attic or building. Thoroughly clean the affected area, especially if it touches the wall surfaces. Doing so reduces the odds of the new insulation suffering the same mold issue in the future. On the other hand, if the affected area is large, consider calling professional mold removal services to help remove the black mold.
Prevention? Like any other problem, mold growth is avoidable. Always keep the blown-in insulation dry. Also, repair any leaks and fractures to ensure no openings can facilitate airflow.
Increasing Airflow with Attic Ventilation
Air leaks can cause black spots on your attic insulation because they lead to dirt, dust, and moisture build-up. If you discover dirt on your insulation, consider cleaning it up and the area around it to prevent further dirt. Alternatively, you can have new insulation – but first, find the cause of the air leakage and fix it.
You can fix the gap using two methods, 1) filling the cracked area to prevent future leaks and 2) using sheet metal or drywall to completely cover the crack. The first option (filling the gap) works well with small gaps. The drywall or sheet metal can work on a slightly larger opening – but if it can't fix it, consider replacing the insulation.
Upgrade Your Attic Insulation with EcoComfort
Attic insulation becomes black when it gets into contact with airflow, resulting in dust and dirt accumulation on your insulation. Also, this can happen when airflow and moisture build up on the insulation, leading to mold growth.
Interested in attic insulation in Mississauga? EcoComfort Insulation & Contracting Inc. is here to sort all your insulation needs. We are experts in cellulose insulation and guarantee top-quality services.