What Increases Your Energy Costs in the Summer?
Published on July 07, 2023
With the warm summer months here, maintaining efficient and reliable air conditioning in your home is essential. With insufficient insulation gone unnoticed, energy bills can skyrocket in these summer months. It's important to be aware of what can lead to these costs. Our specialists at EcoComfort can help determine if your attic insulation in Toronto is causing those increased energy bills. By booking an inspection with us, you can assess your attic insulation cost of replacement or repair. We can help to make your home more energy-efficient and cost-effective.
Read below to learn more about what is causing those increases in your energy bills in the summer.
Leaks in Windows and Doors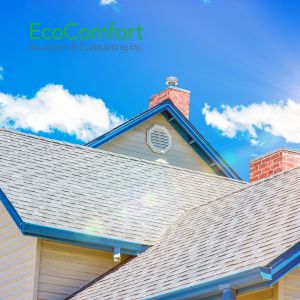 The reason behind your elevated energy bills could be credited to your windows and doors. Inherent built with gaps and conducive to wear and tear from use over time, windows and doors are susceptible to developing leaks. If you notice any gaps or leaks, it is recommended to apply a fresh caulking job or install weather stripping. This solution is beneficial not just during the summer but also in the winter when you are looking for a warm and cozy indoor environment. Typically, a re-caulking project should be effective for a duration of 5 to 10 years. This is a simple and easy fix that you can carry out yourself.
Higher Air Conditioning Functionality
During the sweltering summer months, we often desire relief from the intense heat. Typically, we rely on our air conditioning system to create a refreshing environment as soon as we step inside our homes. However, this level of comfort can significantly increase our energy expenses. Investing in your attic insulation in Mississauga, Toronto, and throughout the GTA can bolster the performance of your AC system while minimizing strain.
There are a few ways to help lower that cost:
When away from home, program your AC system to run a little warmer and cooler when you are at home. You can also program it so it runs periodically.
Use a fan if you are in one room for an extended period of time. Fans don't cost as much on your energy bill.
Closing the blinds on your windows can reduce the temperature in your home. The sun beaming through the windows can heat up a room quickly.
With humid summers in Toronto, take the necessary steps to keep your home as cool as possible, to relax and live in optimal comfort.
Water Damage in the Attic
When water damage occurs, a lot of the time, it breaks down insulation quickly. It's essential to deal with any water damage that occurs as soon as it is detected to prevent all sorts of problems, like mold. Mold can also be detrimental to a home's insulation. At EcoComfort, we can help you manage wet insulation with leading attic insulation removal services as well as attic mold remediation when necessary.
How Attic Insulation Can Help
The best overall approach to improving energy efficiency in the summer and reducing utility costs is by upgrading your attic insulation. The attic regulates temperatures for the entire property, and while making changes to the smaller issues around the property can help, replacing worn, damaged, or aging insulation can make all the difference, reducing the amount of work your air conditioner has to do. Studies show that air conditioners are responsible for 50-70% of energy bills, so finding a way to retain cool air can help you keep more money in your pocket. At EcoComfort, we offer high-quality blown-in insulation in Toronto and the Greater Toronto area so you can protect your wallet and your home.
Is Your Attic Insulation the Culprit?