What is Blown-In Cellulose Attic Insulation Made of?
Published on June 15, 2022
Attic insulation is a must for homes across the city especially as temperatures continue to rise. Blown-in insulation in Mississauga keeps conditioned air contained in your home instead of allowing it to escape through ceilings, making the temperature more consistent throughout your home. Blown-in Cellulose is one of the most common materials used for attic insulation in Mississauga and is preferred by many. At EcoComfort, we use Canadian-approved materials that are safe and chemical-free because we want you to feel comfortable in your home.
To learn more about the benefits of blown-in Cellulose and its materials, continue reading.
Benefits of Blown-In Cellulose Insulation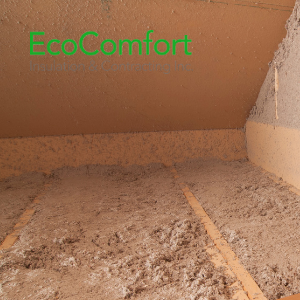 Our team of experts recommends blown-in attic insulation for best protecting your attic. Not only is it fire resistant & reduces pests, but the material also has high thermal conductivity and adequate coverage throughout the attic. One of the most significant benefits is that you can save money on energy usage in your home with good attic insulation. Heating and cooling your home can be highly costly, accounting for up to 50-70 percent of the energy used throughout an average house. When you get blown-in Cellulose insulation installed into your attic, you don't have to worry about warm air escaping during winter months or cool air escaping during summer months. Blown-in cellulose insulation has been around for about 70 years and has become more popular due to how well it works. In addition, you don't need to remove an existing wall to install blown-in Cellulose, which is another reason why it is a popular insulation material. Among the many benefits of blown-in Cellulose - the insulation also contains no asbestos, no formaldehyde, and no toxic chemicals. The material is then treated with boric acid (antiseptic and insecticide), providing insect repellency and mold resistance for your attic and roof. Attic insulation done by EcoComfort is the most affordable and least time-consuming service - we want the best for our customers.
Blown-In Insulation Materials
Blown-in Cellulose is eco-friendly, well-effective insulation derived from the Cellulose in plants and is commonly made using recycled paper, cardboard, and other types of paper. More specifically, it is made from hammer-milling old and scrap newspapers. The manufacturing process then includes repeatedly hammering to beat the paper or cardboard down until it is completely shredded into smaller pieces. Modern cellulose insulation is made up of 75-85 percent of ground-up recycled paper or recycled denim. It is a type of plant fibre with a high R-value that can make your home more draft-proof and soundproof. The high R-value is mainly made from recycled paper derived from wood fibre. Cellulose can be blown into wall or attic cavities with blowing machines - tiny particles of plant fibre form an effective insulation.
Why Choose EcoComfort?
We are professionals in attic insulation that offer a variety of services that are specifically catered to you. Blown-in Cellulose is the right choice for you if you want to regulate the temperature in your home and save money on energy costs.