What is The Best Attic Insulation for Cold Climates?
Published on January 04, 2023
Winter in Southern Ontario can be relentless, bringing wind, ice, and snow storms that span months. During this time, our homes serve as a safe haven from the weather. But if you're not equipped with high-quality attic insulation in Toronto, you may be unable to effectively escape from the cold weather. By upgrading to blown-in insulation in Toronto with EcoComfort, you can improve heat retention at home and stop cold winter weather from affecting your indoor comfort.
Here's how an attic insulation upgrade can help you fight the effects of the frigid weather in the Toronto area.
Increase Heat Retention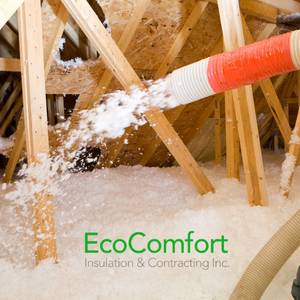 Over time old attic insulation in Toronto becomes less effective, allowing heat that reaches your roof to escape. When heat can't be retained effectively by attic insulation, it makes keeping your indoor environment warm more of a challenge. As insulation becomes damaged with age or exposure to contaminants, attic inspections in Toronto from the experts at EcoComfort can help you quickly identify when you need to upgrade. Switching to high-performance blown-in insulation in Toronto will increase the R-value of your attic insulation, enabling better heat retention. The better your attic can keep heat in, the less your furnace will need to work to warm your home, ultimately saving you on winter utility costs.
Reduce Indoor Drafts
Home comfort quickly becomes compromised when the indoor climate is inconsistent. When attic insulation is no longer performing, walls and floors become cold to the touch, and there is an increase in seemingly random drafts as you move from room to room. Getting cozy and comfortable in a drafty environment can be difficult, and sometimes it can be downright impossible. When you upgrade to loose-fill blown-in insulation in Toronto, indoor climate control becomes more manageable, making warm temperatures easier to maintain and enjoy. If you are experiencing drafts around your home, schedule an attic inspection in Toronto or the nearby areas with EcoComfort to determine the best insulation solution.
Prevent Ice Damming
During the winter, when temperatures drop below freezing, which they do quite frequently, a lack of sufficient attic insulation in Toronto or attic ventilation can put your roof at risk for ice damming. This is when water reaches the edges of your gutters and freezes. When you bring in the attic experts at EcoComfort for an inspection, our team will assess your insulation as well as the rest of your attic to determine if more attic ventilation is required for optimal performance. If needed, a top-up or upgrade to blown-in insulation may also be paired with the installation of additional attic ventilation.
Upgrade to Blown-In Insulation with EcoComfort
Choosing blown-in insulation in Toronto is a great way to equip your property for the cold effects of the winter. Our non-toxic and mold-resistant attic insulation materials will help you live more comfortably in your home all year long while also saving you on your heating costs. Find out if upgrading your attic insulation is the right move for you.