What Your AC is Saying About Attic Insulation in Mississauga
Published on June 27, 2022
On a hot summer day, one of the best things is being able to come home to an air conditioned house without the annoyance of humidity and heat. When your attic insulation in Mississauga is old or damaged, it is not properly ventilating cooling, good quality air throughout your home. Without new blown in insulation in Mississauga, your old insulation will not efficiently resist heat infiltration and cause your place to be hot, humid, sticky, and overall uncomfortable to live in. At EcoComfort, we install blown-in cellulose insulation to keep your property cool during hot summer months and allow your air conditioner to work its best.
Continue reading to understand how your A/C can warn you about how your attic insulation is working.
Temperature Fluctuations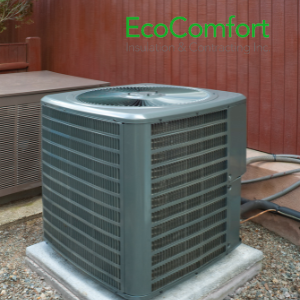 One of the first issues you'll notice when your attic insulation in Mississauga isn't working properly is how effective your air conditioning unit is. If your air conditioning is constantly turning off and on or you are experiencing humid, sticky air in your house while your AC is running, this spells trouble. Without enough insulation, the heat makes it difficult to keep your property at the right temperature. Your air conditioner should not be strained or overworked, it should produce cool air throughout your house in warmer months and warm air in colder months without any issues. When your insulation is older or damaged, it does not allow for air to be adequately distributed. In summer months, your roofing materials like metal sheeting or asphalt shingles absorb heat from the sun, which transmits heat into the cavity of your attic. Blown-in cellulose insulation in Mississauga is one of the best and fastest ways to improve your indoor air quality and environment.
High Energy Bills
If you are noticing that your energy bills are increasing without any specific reason, this could mean your insulation needs replacing. High energy bills could be a sign that your attic insulation is either old or damaged as the cool or warm air from your home could be escaping through gaps in your insulation. When your air conditioning is forced to work on overdrive just to maintain the appropriate temperature, it leads the costs of energy to gradually increase, causing you to spend more money. Not to mention, this also speeds up the process of wear and tear on your HVAC system. At EcoComfort, our team is trained in installing blown-in cellulose insulation, so you can start saving money on bills and regain control of the air in your home.
Why Choose EcoComfort
EcoComfort is your top choice for blown-in cellulose insulation in Mississauga. We understand the frustration of your living conditions when you aren't equipped with conventional air all around your home - you deserve good-quality blown-in cellulose insulation to keep your home temperatures at bay. It's time to say goodbye to high energy bills, faulty air conditioning, and humid air in your home. With the experts at EcoComfort, we provide you with safe Canadian-approved materials that give you long-term performance.