Why Adequate Attic Insulation is Crucial to Your Roof
Published on January 13, 2023
Many homeowners go years, even decades, without thinking about their attic insulation in Mississauga until a significant problem arises, such as leaks or mold. Because the attic is not a frequently visited space, contaminants and infestations can be brewing uninterrupted, eventually affecting the interior and exterior of your property, even your roof. To protect your attic and roof, recognize the signs of trouble and contact the EcoComfort team about upgrading to blown-in insulation in Mississauga.
Read on to learn why attic insulation in Mississauga is crucial to your roof's health.
What is the Purpose of Attic Insulation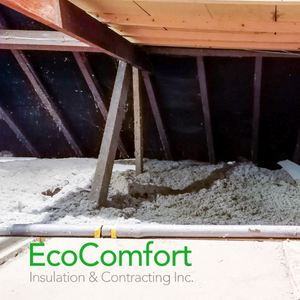 Attic insulation is an essential building material responsible for regulating indoor temperatures. Attic insulation in Mississauga is installed to stop the heat that naturally travels upwards from escaping through the attic. Good quality insulation materials, such as blown-in cellulose insulation, will trap heat and keep it circulating in your home, maintaining warm and comfortable indoor conditions and good indoor air quality.
How Does Attic Insulation Affect Your Roof?
In addition to supporting a healthier interior environment, attic insulation protects your roof too. When insulation and ventilation are optimal, the risk of ice damming, leaks, and even mold is significantly reduced. Upgrading to highly effective blown-in insulation in Mississauga can stop your roof from getting too cold and freezing in the winter, ultimately preventing ice dams and their damaging effects on roofing materials. If you're unsure whether your home in Mississauga or anywhere in the Greater Toronto Area requires an attic insulation upgrade, contact the EcoComfort team for an expert attic inspection.
What Are the Effects of Roof Damage?
Just like attic insulation in Mississauga, your roof is vital to the health and functionality of your home. When roofing materials become compromised from ice damage and leaks, it can negatively impact your insulation and indoor comfort.
The more ice forms on your roof, the more likely you will have air leaks and openings that allow water to enter your attic cavity. Because attic roof leaks are challenging to detect without professional expertise, they will likely be left to fester and attract mold spores. Mold colonies in the attic proliferate due to the heat, moisture, and organic materials that act as food sources. Eventually, your air quality and insulation will become compromised, making your attic insulation less effective and the people in your home more susceptible to mold exposure and related illnesses. To keep mold out of your attic, you will likely require expert attic mold remediation and even attic insulation removal.
How to Prevent Roof Damage with Attic Insulation Experts
Roof damage can be prevented with proper care and advice from attic experts. If your attic insulation is more than 10-20 years old or if you have a history of mold and water damage, schedule an attic inspection with EcoComfort. Our teams will carefully assess the condition of your attic, determining if you need attic mold remediation, new attic ventilation, or upgrading your attic insulation. With our support, you can revive your attic health and switch to high-quality blown-in insulation in Mississauga.
Concerned about your roof and attic?