Why an Attic Insulation Upgrade is a Worthwhile Investment
Published on May 02, 2023
When we think of upgrades to our home, the attic insulation rarely comes to mind. However, upgrading your attic insulation in Toronto returns enormous benefits to your home in more ways than you would ever expect. Upgrading your attic insulation can protect your roof, prevent water damage, improve your home's overall efficiency and lower utility costs, all of which could offset the attic insulation's cost. EcoComfort are attic experts who can help you achieve numerous home benefits with a high-quality blown-in insulation installation in Toronto.
Read on to learn more about why an attic insulation upgrade is a worthwhile investment.
The Effects of Old Attic Insulation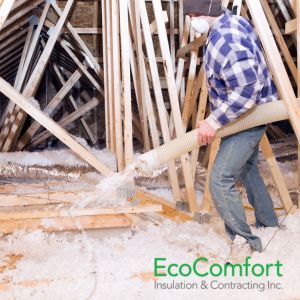 Old insulation can get worn down over time and become ineffective. If your roof is ever compromised or your attic collects moisture, insulation can become wet or moist, which will make the insulation clump and no longer useful. Your attic is an essential part of your home, and inadequate insulation can lead to higher utility bills, unexplained drafts, and potential ice dams on the roof.
Water Damage & Attic Upgrades
Upgrading your attic insulation in Toronto will reduce the risk of water damage through the roof as uneven insulation in the attic can lead to heat loss through the roof and snow to melt then freeze when it meets the colder areas of the roof, creating large icicles called ice dams. The ice dams interfere with water drainage and can cause a leak.
Improved Energy-Efficiency
EcoComfort uses blown-in insulation in Toronto, which is able to effectively improve energy efficiency, reaching small areas and corners of the attic better than alternatives. This helps to keep your home warm during the winter and cooler in the summer months, decreasing the amount of work your furnace or air conditioner needs to perform optimally. The money saved from preventing water damage and higher utility bills makes the attic insulation cost worth its value and will continue to save you money for many years.
Why Switch to Blown-in Insulation in Toronto
EcoComfort offers blown-in cellulose insulation, which provides numerous benefits to homeowners. It's fire-resistant, effective at insulating small spaces, and water-resistant, which helps to prevent mold infestations and preserve indoor air quality. Blown-in cellulose insulation is an exceptionally effective insulator on its own, but it also works great for attic insulation top-ups to increase the R-Value of uncontaminated existing insulation that is still good quality.
You need to ensure your insulation is not just in excellent condition but also good quality insulation for the attic. If you fear you have low-quality insulation, schedule an attic inspection and have a professional inform you of the quality and type of insulation present.
EcoComfort for Attic Insulation Upgrades
At EcoComfort, we pride ourselves on being attic experts. Our will team will provide you with an inspection and help to identify areas of distress in the attic. We only use safe Canadian Approved and chemical-free materials. We address various attic issues, from installing ventilation systems, attic remediation, insulation removal, and replacement, and even identifying fire risks. Your attic is an integral part of your home, from maintaining energy efficiency to protecting the life of your roof.