When Should You Remove Attic Insulation Yourself?
Published on July 15, 2022
After about two decades, even the most well-kept attic insulation in Toronto, Mississauga, Oakville, and the rest of GTA will need to be inspected and upgraded by an attic expert. At its peak, attic insulation offers a wide range of benefits, from home comfort to cost savings. But when attic insulation in Toronto reaches the end of its lifespan, and its performance begins to decline, it needs to be replaced. In some cases, attic insulation specialists will add new insulation on top of the outdated materials. Still, most of the time, before upgrading to blown in insulation, attic insulation removal is required first.
Before you install new attic insulation in Toronto, Mississauga, Oakville, Burlington, or Vaughan, contact the experts at EcoComfort for an attic inspection.
Here are some signs you may need to consider attic insulation removal before upgrading to blown in insulation in the GTA.
Fire Damage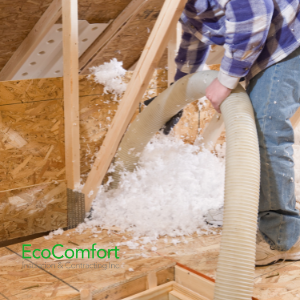 Fires in the attic are not uncommon. If you have experienced even a minor attic fire, your insulation was likely affected by the flames. Once burned, the properties of attic insulation change significantly, leaving the remaining insulation ineffective or insignificant. Depending on the scope of the blaze, some sections of insulation may have been unaffected. The best way to determine if any insulation can be salvaged is with an expert attic inspection from EcoComfort.
Water Damage & Mold
Waterlogged attic insulation will quickly impact the performance of your attic and your home's HVAC system. As a result, wet insulation in your attic should always be removed, especially before adding new blown in insulation. Moisture in your attic insulation is likely to lead to mold, which will infiltrate your attic and degrade your air quality affecting the comfort and health of your entire home. Without attic insulation removal, upgrading to new insulation will result in the quick contamination of your new insulation material.
When installing attic insulation in Toronto with the EcoComfort team, we will do a complete assessment of your attic before introducing new insulation, protecting your investment and ensuring longevity. Our blown in cellulose insulation is also treated with mold-resistant chemicals to prevent future infestations.
Rodents & Pests
Rats, mice, birds, and other household pests are attracted to attics where it is warm and safe. Unfortunately, this is a good nesting spot for the animals but bad for homeowners and occupants. As pests nest in attics, they damage attic insulation and leave behind bacteria from feces and other organic waste. The longer rodents and birds use an attic, the more they compromise air quality and insulation. If attic experts learn that your insulation was used by animals, they will strongly suggest attic removal to keep harmful bacteria out of your attic and air.
Asbestos-Containing Insulation
Outdated insulation materials containing asbestos can still be found within attic insulation in Toronto's older properties. Asbestos is a harmful mineral fibre that can scar the lungs when inhaled. While in the attic, it is far out of day-to-day life. It can quickly enter the ventilation system and pose a hazard to any occupants of your home. If your home was built between the 1960s to 1990s, attic insulation removal is a good idea. Be sure to have a professional handle your insulation for safe execution.
For blown in insulation and attic inspections in Toronto, Mississauga, Oakville, Vaughan, and the entire GTA, choose experts at EcoComfort.