Attic Inspection In Oakville
In most homes with a traditional attic, it's not uncommon for winter heating or summer cooling to escape directly through the roof. When a home does not have suitable attic insulation installed, it's a recipe for wasting valuable energy and wasting money throughout the year.
Although the attic is entirely out of sight, it's not just an empty space – the attic actually has a significant impact on the entire home. Having a routine attic inspection in Oakville can reveal much about the attic condition and can identify problem areas that could use a remedy.
A thorough attic inspection will assess everything under the roof – from the physical structure to the installed insulation to the ventilation system. The aim is to identify problem areas that could potentially develop and to prevent any existing attic issues from deteriorating further.
The Benefits of Having an Attic Inspection in Oakville
An extensive attic inspection can provide a lot of valuable information for a homeowner. There may be moisture issues. There may be pockets of mold growth. And there may even be under-performing attic insulation. A good inspection can also reveal if rodents or insects are present.
An attic inspection will also assess the condition of the roof structure itself. There's no question that roof issues must be identified early. It will avoid the eventuality for more severe problems to ensue. The thing is, minor issues can quickly become big problems (and then costly problems).
An Attic Inspection Will Identify Underlying Problems
The primary goal of an attic inspection is to detect problem areas in the early stages. When it comes to existing attic insulation, a proper inspection will identify deteriorating materials or deficiencies in the original installation. It's also possible to pinpoint the areas of air leakage.
Because the attic and roof cavity is typically out of sight in most homes, potential problems will also be out of sight. That's why a proper attic inspection is so vital. It allows for physical elements to be evaluated and provides viable remedies to be considered and implemented as required.
Choosing a DIY Approach or Choosing a Professional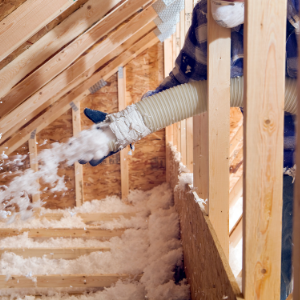 Some home improvements can be expedited with a do-it-yourself approach, and this can certainly save some money. For some homeowners, it may be tempting to undertake a DIY inspection. But nothing can quite compare with an attic professional who has the tools, experience, and expertise.
With attic inspections, it's the professionals who know what to look for and where to look. Some experts even recommend an inspection twice yearly (spring and fall). It's an excellent approach to ensure that everything is in good repair and identify if there are issues that need attention.
When buying or selling a home, one of the recommended inspections is in the attic. Indeed, a good inspection can avert the eventuality of any surprises. More than that, a good inspection will accurately assess airflow, insulation, and ventilation – all essential physical elements.
What To Expect from a Scheduled Attic Inspection
When scheduling a professional attic inspection in Oakville, a homeowner should expect a comprehensive inspection process. All elements in the attic should be addressed, and a detailed summary should be submitted (including an overview and specifics for viable remedy options).
Ventilation
Insufficient air ventilation in the attic allows for moisture accumulation and possible mold growth.
Insulation
Insulation deficiencies include compacted materials, areas of deterioration, and poor air sealing.
Water Leaks
Water stains, rotting wood, and mold deposits can all be assessed with a proper attic inspection.
Animals
Insect infestations, bird nests, and animal droppings can be easily identified with an inspection.
Exhausts
Air vents and exhaust ducts should be inspected for performance to ensure proper air circulation.
An Attic Inspection to Effectively Assess Insulation
Attic insulation must perform at peak to provide comfort during the weather extremes of winter and summer. Any deficiencies in product or installation will compromise indoor comfort and will compromise energy efficiency. Both winter heating and summer cooling will be affected.
A proper attic inspection will ascertain whether the existing attic insulation is actually doing its job. At the same time, it's possible to determine which upgrades and retrofits would be required to achieve peak performance. The objective is to maximize the home's energy efficiency.
Scheduling a Professional Attic Inspection in Oakville
For homeowners in Oakville and throughout the Greater Toronto Area, EcoComfort Insulation and Contracting offers attic inspections that are thorough and comprehensive. Our team of attic specialists will evaluate the condition of your attic, calibrate the performance levels of your attic insulation, and check over the entire roof cavity for problem areas and signs of deficiency.
We report on potential issues in the attic and roof cavity and suggest viable remedies to enhance home comfort and energy efficiency. At EcoComfort, we offer a wide range of services – from attic inspection to insulation upgrades to insulation removal to roof leak repairs. We always provide the highest quality products and the highest quality workmanship, with everything guaranteed.
Learn more about our services by calling one of our specialists directly at 416-333-4554 or visiting our website at https://www.ecocomfortinsulators.ca. For a FREE project estimate, please fill out our convenient online form.