Is Blown-In Cellulose Attic Insulation Sustainable?
Cellulose insulation in Toronto is an eco-friendly insulation option made with sustainable polymers that are the most abundant natural polymer on Earth. Cellulose is also compostable, biodegradable and recyclable, making it an eco-friendly option for attic insulation in Toronto. Cellulose is non-toxic and safe to handle. At EcoComfort, a leading provider of attic insulation, cellulose is used for all blown-in insulation in Toronto.
The Benefits of Cellulose Insulation in Toronto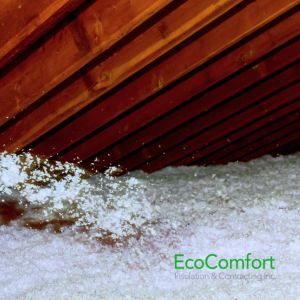 Aside from being an earth-friendly option, blown-in cellulose insulation is fire and mold resistant. Installing cellulose blown-in insulation presents many other benefits to your home by increasing the R-value to satisfactory levels and helping to ensure your energy bills don't go out of control. Cellulose insulation also provides long-term results to homeowners.
The Best Attic Insulation In Toronto
A properly insulated attic will help keep your home safe from mold and help prevent the risk of water damage. Blown-in insulation, in particular, can ensure that all corners and even the tiniest crevices of your attic are insulated. This can help prevent air leaks which can cause drafts and allow allergens into the home. With a proper attic inspection the team of professionals at EcoComfort can assess if your attic is properly insulated and ventilated.
EcoComfort for All of Your Attic Needs
If you want to make sure your attic is adequately insulated, don't hesitate to contact the EcoComfort team. They are trained and skilled at performing a thorough inspection of your attic to diagnose issues you know that need to be addressed and may be able to help diagnose other problems you were unaware of were present.