Blown-In Insulation in Toronto
Is Your Attic Insulation in Toronto Failing You?
Is your attic insulation more than 20 years old?
Are pests like birds, rats, or even racoons inhabiting your attic?
Are there sudden drafts in your home?
Have you noticed signs of water damage in the ceiling?
Do ice dams form around the roof in the winter months?
There are many different types of attic insulation in Toronto available for homeowners. Each of which differs in performance, longevity, and durability. The purpose of blown-in insulation in Toronto, like every other insulation, is to regulate home temperatures by preventing heat from escaping through the roof.
Quickly enable cost-savings and boost performance significantly when you upgrade to blown in insulation.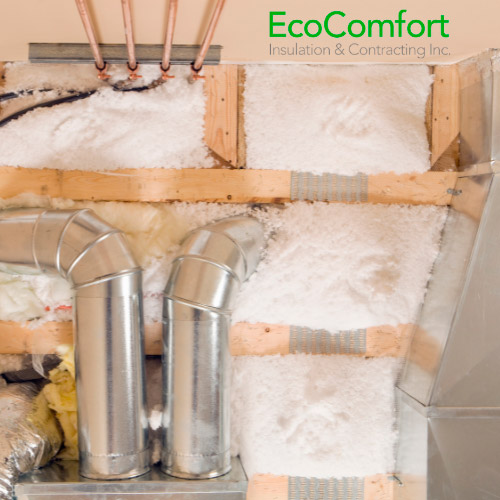 Installing blown in insulation in Toronto is an easy way of improving your home and creating a more comfortable living environment while also improving your energy efficiency and saving on your heating and cooling bills. In the past, methods of insulating homes in the GTA didn't always take into consideration energy efficiency or have access to the kind of modern materials and awareness of best practices in home building that builders have today. Decades on, these old insulations are deteriorating, degrading, or are no longer to code, resulting in inefficient heating and cooling, high utility bills, and a decrease in your indoor comfort.
An attic inspection in Toronto can help you efficiently and adequately assess the performance of your insulation. Following an inspection of your attic, you can decide whether an attic insulation upgrade is in your best interest. Upgrading to blown-in insulation can help you save on your monthly utility bills, improve temperature regulation and comfort around your home. An upgrade to high quality blown-in insulation will even enhance safety by increasing fire and mold resistance in your attic.
Why Conduct an Attic Inspection in Toronto
Expert attic inspections are key to diagnosing attic insulation vulnerabilities. When trained technicians take a look around your attic they can quickly identify areas where your insulation is damaged or compromised and recommend solutions for improvement. Proper attic insulation assessment means you can enhance air quality and comfort in your home.
During inspections technicians will look for:
Damaged or aged attic insulation
Poor attic ventilation or blocked ventilation
Leaks or water damage in the attic
Pests dwelling in attic
Mold outbreaks and insulation contamination
Insufficient or excess attic insulation
When to Install Blown n Insulation in Toronto
EcoComfort recommends installing blown in insulation in Toronto attics because of the cumulative, house-wide effect that a properly insulated attic can have. In the winter months a poorly insulated attic, or one with sub-par insulation, will allow heat to collect and moisture to form, creating ideal conditions for mold growth. It also means that the heat your furnace is working hard to create is constantly needing to be replenished where it's needed most - the rooms of your home. In the summer months, a similar problem can occur - heat builds up from constant exposure to the sun and eats up your air conditioning, resulting in a hotter, more uncomfortable indoor experience. If you experience high energy bills, drafts, hot or cool spots, or problems like mold growth or condensation in your home, it might be because you need new insulation.
The Benefits of Blown In Insulation
Installing new blown in insulation in Toronto will bring your home fantastic benefits above and beyond keeping your home comfortable. First, blown in insulation has better coverage than batt-style insulation, which may not sit flush with the curves or crevasses of your attic space. Because it is blown-in, installation of this type of insulation is quick, resulting in less of a hassle for the homeowner. Blown in insulation can help create a sound barrier, and prevent air leaks into your attic as well. Most importantly, installing blown in insulation in Toronto brings with it excellent energy savings by preventing heat loss through the attic cavity. This benefit is the most important, because is provides a homeowner with longterm benefits in home efficiency, a reduction on your home heating and cooling bills, as well as reduced maintenance needs for your HVAC system. Blown in insulation is also an economical, cost-effective product to install, making it a superior choice for a homeowner interested in improving their property and adding to their investment.
Fire Resistant Attic Insulation
Did you know that most residential fires start in the attic. Attics are often overlooked because they're out of sight and not interacted with on a daily basis. Loose wires, wood, and attic insulation in Toronto increase the likelihood of a fire. The wrong attic insulation in Toronto will only make the attic more prone to a sudden fire. An attic inspection in Toronto can help you curb the risk of a fire at home. Blown-in cellulose attic insulation from EcoComfort is treated with fire-resistant chemicals to minimize the spread of flames in the attic.
Two Types of Blown In Insulation
At EcoComfort, we offer two different types of blown in insulation in Toronto. Both have distinct material compositions and give our customers an option when choosing new insulation for their attic.
Loose fill Fibreglass: You may be familiar with fibreglass as a big, pink, puffy batt, but it can be effectively processed and used as blown-in insulation as well. Constructed from glass that is blown or spun into fibres, it is a suitable material for attics and wall cavities, and can provide an excellent R-Value for your attic. Fibreglass blown in insulation has the added bonus of being relatively impervious to moisture or the growth of mold, which need organic materials to grow on.
Cellulose Insulation: This insulation material's composition may surprise you - it's made from recycled paper. Cellulose insulation has been around for at least 70 years, though it's only begun to gain popularity in the last 40. Generally made from recycled paper, cardboard, or waste paper products, the resulting insulation is treated with a fire retardant and makes an effective insulation material. Cellulose insulation has the added bonus of being a recycled product, making it a greener option than other insulation types.
A professional at EcoComfort will help you determine which type of blown in insulation is right for your home. Depending on the individual needs of your home, one product may be more ideal than the other. Blown in insulation in Toronto is particularly ideal for attic retrofits because it can easily be applied in the narrow, strangely shaped, or reduced access areas of your attic. Blown in insulation is also ideal if you're adding to a finished space - unlike batts, which need total access to install, blown in insulation can be installed with minimal disruption to your walls and home.
Why Choose EcoComfort in Toronto for Attic Insulation
When you choose EcoComfort for attic insulation installation and upgrades in Toronto, you're choosing high quality materials and workmanship from some of the city's most trusted professionals. Our team of attic experts are careful and thorough on every job to ensure the best results every time. From attic inspection to removal and upgrades, the team at EcoComfort follows best practices and industry standards to deliver attic solutions that make a difference in your home and your wallet. We use high-quality, Canadian materials for all of you installations.
Get started with cost-effective attic insulation solutions with blown in cellulose insulation from EcoComfort. To learn more about upgrading and inspections, contact the attic experts at EcoComfort.
Consult a Professional for Your Blown-In Insulation Needs
The key part of any blown in insulation in Toronto installation is contracting the right professional for the job. Blown in insulation is only effective if installed accurately, and a thorough examination of the attic, ventilation, and other factors that affect its usage is needed to choose the ideal material. At EcoComfort, attics are all we do, which makes our teams not only incredibly knowledgeable, but also thorough and dependable. Choosing to work with a professional ensures that your new insulation is covered under warranty, it's safe to use in your home, and that your needs are met, if not exceeded.
The friendly staff at EcoComfort would be happy to tell you more about our services offering blown in insulation in Toronto, so please don't hesitate to get in touch at 416-333-4554.