Attic Insulation Upgrades in Vaughan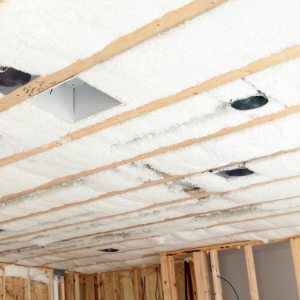 When an attic is well insulated, winter heating and summer cooling can't leak out through the roof. For homeowners planning attic insulation upgrades, the results will be apparent almost immediately – better energy efficiency, reduced utility costs, and improved indoor comfort.
Before installing insulation in the attic, professional attic insulation services should include a proper attic inspection. A good inspection will allow for an accurate assessment of insulation performance. It's also an excellent time to identify potential problems in the attic and roof cavity.
By any measure, upgrading the insulation in an attic will make a noticeable difference. Home energy efficiency is much improved, indoor comfort is enhanced, and utility bills are reduced around the year. A well-insulated attic can significantly reduce heating and cooling costs.
Attic Insulation Upgrades

Improve Energy Efficiency

During winter, poorly performing attic insulation allows the home's indoor heating to leak right through the roof. This type of heat loss makes the furnace work overtime to keep the home warm. In summer, cool air similarly escapes through the roof, and the AC unit must work overtime, so the house remains cool. It's the right time for professional attic insulation services.

At EcoComfort Insulation and Contracting, we often suggest blown-in cellulose for the attic. This insulation product ensures appropriate R-Values and provides good coverage throughout the attic. Once the attic is appropriately air-sealed, blown-in cellulose will block potential air leaks and effectively insulate the home. Blown-in cellulose insulation is both effective and cost-efficient.
Excellent Thermal Performance
Professionally installed, blown-in cellulose provides excellent levels of thermal performance. This product can also be installed as an upgrade to existing insulation and to boost existing R-Values. If existing insulation materials are not damaged, blown-in cellulose is a great "top-up" application.
Fire Resistant Insulation Material
Blown-in cellulose insulation is treated to be fire-resistant. When the product is installed to the manufacturer's specifications, the insulation material is designed to inhibit the spread of fire. Even more, fire tests suggest that blown-in cellulose is more fire-resistant than other products.
Effective Coverage in the Attic
A typical attic and roof cavity has numerous spaces that are "hard-to-reach." Those spaces are very effectively insulated with blown-in cellulose. And while those awkward spaces limit physical access, the blown-in product fills even tiny cracks and crevices (better than traditional batts).
A Good Long Term Investment
When professionally installed, blown-in cellulose requires fewer installation hours than many other insulation products. And because of the reasonable installation costs, this product makes for an excellent long-term investment, with the assurance of a quality product and installation.
A Non-Toxic Insulation Product
Blown-in cellulose doesn't contain formaldehyde, asbestos, or chemicals. During the fabrication process, the cellulose material is treated with boric acid. This process is designed to provide insecticide and antiseptic qualities to resist mold growth and deter insects found in the attic.
An Attic Inspection Can Reveal Problems
Before doing any attic insulation upgrades, homeowners would do well to arrange for a thorough inspection of the attic space. It's an ideal first step to uncover potential problems such as damaged insulation, air leakage, poor ventilation, and even structural defects.
A thorough inspection will address problem areas before they become severe and costly. The fact is, most attics are concealed - so problem areas tend to advance without being noticed. A good inspection will uncover those problem areas and present appropriate solutions.
It's also an excellent opportunity to inspect the attic and roof when selling or buying a home. The inspection provides an accurate assessment of the house while averting the possibility of any undesirable surprises. Here again, insulation, air leaks, and ventilation are each assessed.
A DIY Installation OR a Professional Installation
For homeowners installing new attic insulation, there may be a temptation to undertake a DIY installation. The truth is, nothing compares with professional attic insulation services. An experienced insulation contractor has the tools and expertise to do it right the first time.
From the inspection stage to the completed installation, professionals do it right from start to finish. With EcoComfort Insulation and Contracting, customers are assured of a project approach that is both comprehensive and all-inclusive – and all of our installation work is guaranteed.
For Quality

Attic Insulation Upgrades,

Trust EcoComfort Insulation and Contracting

Quite simply, a properly insulated attic will significantly boost home energy efficiency and markedly improve indoor comfort. At EcoComfort, we deliver those results with high-quality insulation products and high-quality installation work.

Before installation, our team will perform a thorough inspection to determine if any repairs or retrofits are required in the attic and roof cavity. We also recommend whether existing insulation needs to be replaced or if a "top-up" will be adequate.

EcoComfort provides professional attic insulation services in Vaughan and throughout the GTA.

Contact one of our in-house attic insulation experts or book a comprehensive attic inspection online today. To request a cost estimate, use our convenient online form, and one of our team will be in touch.